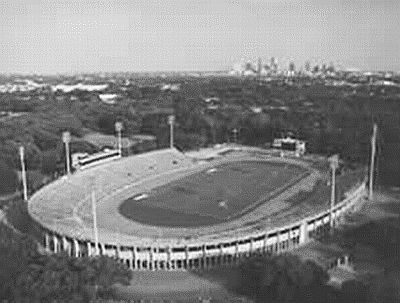 On what has become a lost milestone in local and national pro football history, December 4th marks three-quarters of a century since the first NFL regular season game was played in the southern United States, specifically at City Park Stadium in New Orleans (pictured right) between the Pittsburgh Pirates (became the Steelers in 1940) and the Cleveland Rams (the franchise currently in St. Louis).
The end result was a 13-7 Rams win but the bigger story of note was how the game ended up here in the first place. Pittsburgh had low home attendance in 1938 and, after a failed attempt to move the game to Chattanooga, Tennessee (a city considering pro football at the time), New Orleans city officials worked out a deal with Pirates business manager John Maher for use of the local stadium.
While it didn't result in a locally-based NFL franchise right away, this game became a benchmark for what would eventually become the NFL's widespread following throughout the south, especially through expansion in the 1960's and 1970's.
New Orleans in the 1940's and 1950's remained a sports town devoted to high school football and Pelicans minor league baseball, though another attempt at the pro game developed in 1949 when "Sports Incorporated" led by Dave Girtler brought an exhibition game to City Park on September 3rd . About 12,000 fans saw the Eagles defeat the Lions, 45-14. The relatively low turnout ended this group's hope of annual exhibition games in the Crescent City.
The baseball Pelicans shut down at the end of the 1959 season, leading their unemployed general manager Jack DeFee to start Louisiana Professional Sports Incorporated. DeFee helped secure the first two regularly scheduled exhibition pro games in City Park Stadium with the Green Bay Packers defeated the Steelers, 20-13, before 16,500 fans in August 1960. In an August 1962 contest, the Houston Oilers defeated the Boston Patriots, 20-10, setting an AFL record for pre-season attendance at over 31,000 fans.
Local businessman Dave Dixon's group N.O. Pro Football Club Inc. would take the lead in putting a major pro football team here and held exhibition games at Tulane Stadium (thanks to University board approval in March 1963). In '63 and '64, New Orleans was scheduled to host the AFL All-Star Game in January 1965. It never happened. Twenty one African-American players boycotted the game over what they described as lack of access to local taxi cabs and blocked entry into French Quarter clubs, resulting in the decision by commissioner Joe Foss to hastily move the game to Houston.
Dixon refused to let this event be a black-eye on his dreams and the following August, over 75,000 fans rallied for another NFL exhibition to set a southern U.S. record for highest attendance at a pro sporting event. After two more contests in 1966, Dixon with help from good friend David Kleck was able to help the NFL-AFL merge by having Louisiana Congressmen Hale Boggs and Russell Long pass through Congress a limited antitrust exemption for the NFL in October 1966. A few days later, the Crescent City was granted its NFL expansion franchise, announced at the Ponchartrain Hotel by commissioner Pete Rozelle.
From there, the incredible path of Saints history began. From the first 18 years under owner John Mecom, Jr. and the sometimes wacky ride that tested the patience of even the most loyal of fans to Tom Benson's ownership starting in 1985, it was an adventure. A more streamlined approach to building an organization came into play under general manager Jim Finks and head coach Jim Mora . The first-ever winning seasons and playoff appearances from 1987-1992 were followed by a slump for the rest of the 1990s. Then the first-ever playoff win in 2000 over the St. Louis Rams, 31-28, was followed by average seasons for the rest of the head coach Jim Haslett era.
Following the most concerning time in club history over the possible post-Hurricane Katrina relocation to San Antonio in 2005 came a great revival under general manger Mickey Loomis and head coach Sean Payton. Winning seasons, advancement in the post-season and eventually a Super Bowl XLIV championship have made these times by far the best for Saints fans.
Let's face it, life as a local pro football fan hasn't always been on smooth seas, but some of the ports of call have definitely been memorable to say the least. Here's to many more years of exciting contests and story lines as we remember where it really all began. Happy anniversary, New Orleans Pro Football!