J.D. Roberts was named head coach of the New Orleans Saints midway through the 1970 NFL season, after owner John Mecom relieved the first coach in franchise history, Tom Fears, of his duties.
"It was uncomfortable," Roberts recalls. "What about the assistant coaches on that staff?"

Saints general manager Vic Schwenk told J.D. that Mecom didn't want any of the assistants to move up.

Roberts had been brought in from the Richmond Roadrunners semi-pro team. "In those times the Jets, Colts, Redskins, etc., all had minor league teams," he said. "The Saints were affiliated with the Roadrunners."

Roberts had also spent time in the Crescent City with the original Saints team in 1967 as a linebacker coach under defensive coordinator Jack Faulkner.

Despite taking over a challenging situation in New Orleans, Roberts was groomed for tough times as an Marine and an All-American offensive guard at the University of Oklahoma in 1953.

While with the Sooners, Roberts played under legendary coach Bud Wilkinson and was an early part of the unprecedented Oklahoma 47-game winning streak from 1953-57.
"It was tough," noted Robets about the streak. "Half the nation pulled for you; the other half pulled against you. But we were always prepared."

The Sooners were led by the school's first Heisman Trophy winner, Billy Curly" Vessels. "(Vessels) was the best back that I was ever around. He was an all-around running back, but with the platoon (players playing both ways), he was an outstanding defensive back."

J.D. was named All-Conference in 1952-53, lining up alongside All-American center Tom Catlin. "(Catlin) was the premiere center, the best deep snapper and a great linebacker."

The coaching staff was sprinkled with some talented tutors. Gomer Jones was the line coach, and Dee Andros was his assistant.
But there was no question as to who ran the show. Wilkinson was a stringent taskmaster. "I learned from him," Roberts said. "After getting out of the Marines, I was on his staff as an assistant. He hated mistakes, and the mental part was harder than the physical challenge."

Roberts was introduced to a grueling platoon leader's class while playing at Oklahoma in the summers before his junior and senior seasons. "One summer was Marine boot camp and the second was I.T. training" The 6-7 weeks each summer took their toll. He played at 230 pounds as a sophomnore and 218 as a junior. Then he played his senior All-American year (1953) at 185 pounds.
Following his playing days, Roberts was assigned to Quantico, Virginia to SDT. Then in December 1956, he was sent to the 2nd Marine Division in Camp LeJeune, North Carolina.

J.D. had been a player-coach while with the Marines in 1955 before serving on the Naval Academy staff. He spent time as an assistant at his alma mater under Wilkinson. Coaching was in his blood, so it was no surprise how quickly he escalated to the top of his profession.


His first day on the job as a head coach will live in Saints memory forever. It was Nov. 3, 1970, the day that Tom Dempsey kicked an NFL record 63-yard field goal on the game's final play to propel his new team to a 19-17 win over the visiting Detroit Lions.
"Our team was playing well that day," Roberts recalled. "Eight minutes on the clock, we're 4th down at the 2 yard line. I went for a an 18 yard field goal to put us up . Tom (Dempsey) misses a chip shot." It wouldn't be the final time Dempsey's name would be called. A series of plays set the stage for Dempsey's historic kick.

Wide receiver Al Dodd made key plays that had a major impact in the Saints even having a chance for redemption. "Two great plays by Al Dodd," Roberts explained. "He had a clock in his head. He made an incredible kick return and then made a helluva sideline catch, getting out of bounds right in front of our bench. Great throw by Billy Kilmer. I look up at the clock, it's 2 seconds left. It was my first game as a head coach. Now we're 63 yards away."
The snap was perfect by snapper Jackie Burkett to Joe Scarpiti the holder. Dempsey kicked himself into immortality. The kick that barely cleared the crossbar lifted the Saints past a disbelieving Lions squad.

The Detroit win would represent only the 2nd win Saints in 1970, leaving New Orleans among the league's doormats. The upside would be selecting early in the 1971 NFL Draft. The highly regarded prizes of the 1971 draft were 3 quarterbacks - Stanford's Heisman Trophy winner, Jim Plunkett, Santa Clara's Dan Pastorini and the pride of Mississippi, Archie Manning.

In spite of the Saints picking second, the franchise ended up with the player that they coveted. "Even if we would have had the top pick, Archie would have been our pick. Archie could have played Major League Baseball (White Sox)."
With the arrival of Manning, it would signal a change of address for starting signal-caller Billy Kilmer. He was dealt to the Washington Redskins.
"It came from the top. John Mecom did not want to draft Archie and sit him on the bench," Roberts chuckled. "Sonny Jurgenson was on the way out (in Washington). Billy was a competitor. I was convinced (Kilmer) could be a starter (in the NFL)."
Roberts was right. Kilmer led Redskins coach George Allen's Over-The-Hill Game to the franchise's first Super Bowl appearance.

Archie's rookie season opener was filled with all of the fanfare and excitement of a Hollywood Classic. The red-haired rookie faced the Los Angeles Rams and their Fearsome Foursome. He completed 16 out of 29 attempts for 218 yards. But the game came down to the final play.
"Offensive coordinator Ken Shipp called Archie to the sideline. We talked it over. I asked Archie what he wanted to do, he said 'I want to run.' Either Danny Abramowicz or Dave Parks were receiver options. He could have thrown it. He ran it." Manning sprinted left, barely breaking the plane of the goalline from 1 yard out before the ball popped loose. There was a controversy over the play, but instant replay wasn't utilized yet, and the Saints walked off with a 24-20 win.

The Black and Gold would finish the 1971 campaign with a 4-8-2 record including wins over the Dallas Cowboys (24-14) 49ers (26-20) and Packers (29-21).

But the franchise was guided by a young owner, an oilman's son who assumed the team at the age of 27. All J.D. Roberts and the coaches could do is give advice and hope that he made wise decisions. " In a lot of ways (Mecom) was a fine guy. He was a very intelligent guy but would not listen to football people. He would listen to his friends too much," Roberts said.

The landscape on Saints Drive was ever-changing. "Vic Schwenk was let go in December of 1971. Harry Hulmes was the acting general manager. Schwenk left after some disagreements with the front office.
An astronaut next sat in the general manager's chair when Dick Gordon arrived Jan. 7, 1972. "(Gordon) was sharp. But he had no experience with football. Harry Hulmes would have been a good hire. Harry and I would have gotten along fine."

When Gordon arrived, Hulmes was moved back to the assistant GM spot. Hulmes had a pedigree, having served with Don Shula while with the Baltimore Colts.

The 1973 season had an interesting start when the Saints traded their 1st round draft pick to the Colts for defensive end Billy Newsome. The Colts made the most of the trade by selecting LSU quarterback Bert Jones with the second overall pick received from New Orleans. Newsome would only spend 2 seasons in the Crescent City. Roberts thought that the team should shore up the defense.
"We didn't need another quarterback. We needed a pass rusher. I had seen this guy (Newsome). Unknown to me, the guy had a problem coming to New Orleans. He was the team MVP in Baltimore but had an attitude problem."
Roberts never got to see the off-season moves take shape. He was relieved of his duties following the team's 4th straight preseason loss, a 31-6 set back to the New England Patriots. The team named John North as their 3rd head coach in the franchise history on August 26, 1973.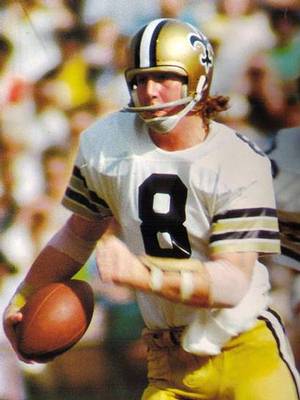 It was a fun ride for Roberts. He did the best job that he could for a franchise that seemed to be cursed. He did have a chance to coach a few household names to the Saints faithful.
"Billy Kilmer was one heckuva competitor. He really knew the game. Danny Abramowicz would not accept no for an answer .His stubbornness paid off. Tom Fears tried to cut him twice, " Roberts laughed. "( Abramowicz) wouldn't bring his playbook. We were going to Portland for a exhibition game (August 26, 1967 versus the 49ers). We lost a receiver for the game. Danny played well in that game. He was a good special teams player. He got the most out of what he had."

Archie Manning was one that stands alone when Roberts reflects back on his days in New Orleans. "Archie was a fine athlete. If he wasn't such a great athlete, he would have gotten killed. He didn't have much blocking. He had to learn to drop back and read defenses. He never had a (great) team around him."

J.D. still follows pro football from his living room recliner. "I like to watch the Manning boys. I've known Bill Belichick since he was a kid. His dad (Steve) and I coached together at the Naval Academy."

Roberts monitors the Saints' progress with interest. "I still follow the Saints. I'd like to see them win a championship one day."
As a former great college performer, Roberts has opinions on the modern game on that level. J.D. feels changing college football bowl structure wouldn't be the answer.
"If there was a playoff, there would still be controversy. Those bowls were lifesavers for a long time. I remember when there were only 5 bowl games. You still have to vote as to who qualifies (for a playoff). It will never be settled. Leave it alone, the way that it is."

J.D. Roberts, 76, resides in Oklahoma City, Oklahoma working for New Park Drilling Fluid, supplying drilling fluids needed for oil and gas drilling. He recently celebrated his 51st wedding anniversary in February with his wife, June. He has 5 children, 12 grandchildren and one great grandchild.